Rental of mini-skips that can be towed behind a bakkie.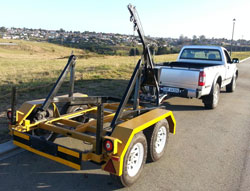 Applications would include:
  •   Garden Refuse
  •   Building Rubble
  •   Site Clearance
  •   Empty Bottles
  •   Clean-ups after School and Sports events
  •   Sand and stone
Ideally, this small 2 ton skip can towed with a bakkie.
A trailer and 10 skips to start can make you R10 000 pm per skip. A solid long term and straight-forward business. An area the size of Knysna could handle around 45 skips whereas Durban would be 80 - 100. That is an excellent profit.