Description:

Budget Auto Glass is a mobile owner managed business (Branch / Area Operator) which specialises in windscreen replacements, chip repairs, home and commercial glass and ''Smash and Grab.'' Some of the existing ''Branch / Area Operators'' also have fitment centres to assist customers at their convenience. Our model is based on low overheads, affordable products and high returns and profit margins. ''BAG'' does not have service centres or drive in centres where a customer can bring a vehicle to repair or replace a windscreen. We normally operate on a mobile service basis with branded vehicles. ''You ring, we replace,'' ... and we are available 7 days a week. Several of our existing customers rely on our services after hours in emergency situations. Some of our ''Branch / Area Operators'' do have fitment centres which has also proved to be a very viable option. And some of our ''Branch / Area Operators'' also do Chip Repairs, Home and Commercial Class and Smash & Grab.

    "You ring, we replace…….

Each ''Branch / Area Operator'' does their own marketing in their area with initial support from Head Office, takes orders, does the insurance claim/quote and sends a mobile unit to replace the customers windscreen at the location nominated by the customer. It doesn't matter if you have 1 bakkie or 10, the process and business philosophy remains the same. The more tenured, trained and motivated the sales consultants you employ, the more revenue your business will generate.

This philosophy has been tried and tested extensively at Head Office level and has enjoyed tremendous success. Repeat business from customers due to good service and convenience is a given, and our customers refer new customers all the time. These are just some of the advantages you receive when the business is managed correctly and where the owner is dedicated and involved at all times.

There are warehouses located all over South Africa to supply SABS approved laminated windscreens to each ''Branch / Area Operator'' regardless of the location of your business.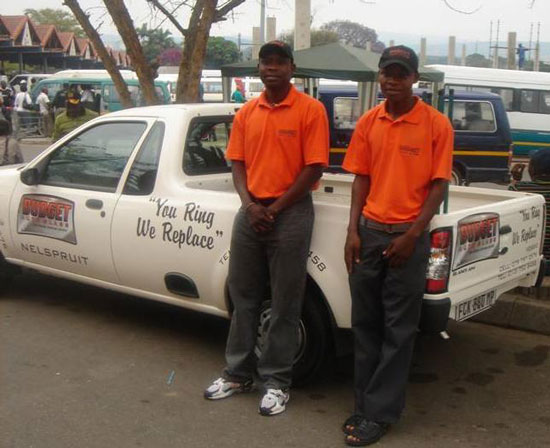 Mission Statement
Convenience, Price, Service and Quality are the key areas we focus on to easily satisfy all needs of our customers though a seamless claim and replacement process whilst keeping the quality of our work at the highest level with absolute professionalism. Our goal is to take ''BAG'' national and to develop the brand into a well respected household name whilst supporting our ''Branch / Area Operators.''
  Business Philosophy
Our philosophy is to provide a cost effective and convenient service by dispatching our mobile vehicles to customers for the replacement of windscreens. We have enjoyed tremendous success and would like to share our know-how and experience with carefully selected ''Branch / Area Operators'' throughout Southern Africa.
Our intentions are not to open physical locations with the exception of Nelspruit where the Head Office is located. Having said this, there may be suitable locations in the country where it makes absolute sense to open a ''Fitment Centre'' which we can discuss.
Our model supports the appointment of sales staff by the ''Branch / Area Operator'' on a commission basis to go source business instead of spending large sums of money on fruitless and expensive advertising.
Target Market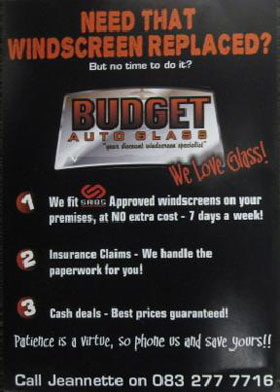 Our target market is pretty much everybody, almost anything with wheels needs a windscreen and windscreens break, crack and shatters all the time. There is a massive demand for affordable windscreen products in South Africa and most Auto Glass companies advertise widely and wait for customers to approach them, we do the opposite.
Private Vehicles: There are millions of privately owned vehicles on our roads and if you look carefully you'll find that at least 20% of them have something wrong with the windscreen. Privately owned vehicles are normally financed through a bank and must therefore be ensured. Marketing your product to these customers is therefore easy and profit margins are high due to our low cost product vs. what the insurance company pays out.
 
Company Vehicles:  Whether a company has 1 or 2 delivery vans or whether they have a massive fleet of vehicles, they will all require new windscreens from time-to-time. Your sales consultant's approaches these companies, builds relationship and the orders will come in.
 
Government Vehicles: Depending on which government branch you approach, some branches do not ensure their vehicles at all. Our Nelspruit branch replaces at least 25 windscreens for the Traffic department every month. Government business is fairly easy to get because it is not the drivers vehicle.
 
Trucks & Busses: The profit margins are very high on truck and bus windscreens as the glass is cheap to buy and the insurance company pays a very reasonable amount for the claim. Again, approaching these type of companies are easy as long as the service and relationship is maintained.
 
Taxis: Taxi business is huge and it is normally Cash Business. Taxi's are on the road most of the day and usually travels in areas where the roads are full of pot holes, rocks and dirt. If you have the right sales consultant to approach taxi drivers, taxi owners and taxi associations, you'll be very busy replacing taxi windscreens.
 
House & Building Glass: You will develop good relationships with glass supply companies during your 1st few months and will likely be able to supply glass to Homeowners and or Builders and Developers at a better price than the local Franchises due to massive mark-up's. We see this strictly as a "Side-Line" as this is contrary to our "Mobile Business Philosophy"
 
Chip Repairs: Additional equipment is required to repair small chips and cracks but "BAG" as a business do not really focus on these as the profit is really in Windscreen Insurance claims (Up to the "Branch / Area Operator" to explore opportunities)
 
Smash & Grab: There is a massive market both for new and second hand vehicles when it comes to "Smash & Grab" products; mainly due to Crime and our Climate. It is a cheap product with excellent margins but is a little time consuming and requires some skill. Profit margins are extremely high though.
 
Why Budget Auto Glass
Compared to our Competitors

Our purchase price is much lower than our competitors
We have several available locations and we can have a turn-key operation ready in a matter of weeks
Our monthly royalty fees are much lower than our competitors and are more than fair and reasonable.
The Radius/Area in which you operate is not as limited as with our competitors
We believe in the spirit of entrepreneurship and we do not run your business for you or tell you how to, we provide advice, guidelines, best practice, benchmarking and share information; the rest is up to you

We provide full and comprehensive training both at our Head Office and at your location

"BAG" has grown it's business from 1 small bantam bakkie to 12 bakkies in 3 provinces with several new "Branch / Area Operator's" in the process of launching

"BAG" has established a robust sustainable system and process to ensure that the claim process is seamless and precise

"BAG" has a strong Corporate Identity with a fully functioned Website and is well advertised on the Internet. Each "Branch / Area Operator" shares in the website thus saving on costs. Brand awareness is important to us and we spend a lot of time developing a trusted brand.

"BAG" has developed a sustainable business model and strategy with excellent return on investment

"BAG" has been nominated and won 2nd place at the "Lowveld Chamber of Business" awards

"BAG" operates on a high income low cost model, attracting business rather than advertising at a huge cost

"BAG" targets the entire market whereas our competitors can only focus on Insurance claims as their products are too expensive for cash deals

You will qualify for a massive discount at our Suppliers for Glass because you are part of the group (Up to 50% discount)

"BAG" provides a turn-key operation to new "Branch / Area Operator's" – All Branding, Corporate Identity and Business Operating model is already in place

We have extensive insight into the industry and have very good relationships with the Insurance industry, this knowledge and information is shared with our "Branch / Area Operator's"
Other Information:
This is not a franchise but operates on a similar model.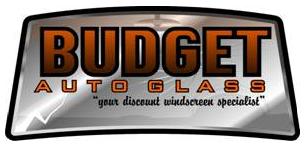 TRAINING
Complete Training is provided both at head office level and branch level to ensure that a full turnkey operation is handed over. No prior experience or skills are required, just some business savvy.
FUTURE SUPPORT AND TRAINING
This would include site visits, conferences and refresher training as well as marketing assistance and admin support.
LIFESTYLE
Some office-based admin and marketing to new customers.
You will be working with people, travelling and enjoying outdoor work.
Typical operating hours would be from 07h30 to 17h30.