Opportunities are born out other peoples mistakes.
Our government has not delivered on the educational promise.
600 000 kids matriculate each year with only 130 000 spaces that are available to enter University.
ZERO new universities have been built over the last 20 years to accommodate the growth of our expanding population base, leaving students and parents frustrated and confused about their futures. Angry and upset, riots are breaking out at universities where students are denied access due to overcrowding and lack of space in lecture rooms.
Even worse than that, 1,2 million people enter the job market yearly, and only 10% will get a job in the first 6 months, 15% get a job in the next 18 months and the balance will not be employed for 24 months or more thereafter.
It's a mess, it's bleak, and it's unacceptable, but business people do not cry about such things. They create opportunities out of it.
It's GAP Entrepreneur's goal to empower, up-skill and raise people to enable them to become what they could possibly become through a specific education program like no other. No more sitting in a classroom learning copious amounts of theory in the hope to secure a job out of it. Most believe a degree will solve your problems however it is known that education alone cannot guarantee you a job or a future.
We teach a specific business program that is applied through the 47 module program. Upon completion, students will have an actual business they themselves have built and the experience to go along with it.
If you feel that you are ready for a challenge that is both rewarding and profitable then you have arrived at the right place.
Gap Entrepreneur is new, exciting and different. It does not conform to traditional thinking, but rather stretches the boundaries and sets new sights for human development.

WHO ARE GAP Entrepreneur?
Driven by a passionate group of entrepreneurs with the explicit goal to build, grow, and enhance our up and coming entrepreneurs in the areas of business and practical application of knowledge.
With more than 45 years collective business experience in a myriad of different businesses, our team are equipped and able to teach, inspire, apply and build potential entrepreneurs to understand the pathology of business in modern times.
We are long since of the opinion that you can only learn how to be in business from a successful business person. There are too many people who believe they know how things work from a spectator perspective, who haven't achieved the level that they are willing to offer advice to.
GAP Entrepreneur Team
It's our actions that determine our results. Measure a person's daily deliberate action and you can draw a straight line to their success. Action has opposite and equal reaction. Do the right things, get the right things.
Our team are successful entrepreneurs who have achieved success in their perspective businesses. They are all high net worth individuals. They don't just talk the talk, but walk the walk. They have the fruit of success on their own trees and have little or nothing to prove to anyone.
They have achieved success through hard work, grit, mistakes made and lessons learnt. Their foundation of knowledge has been built through action, implementation and fearless deal making. Their success has been carved from risk taking, system implementation and quality management. They are readers, students of business and life. Their role in GAP Entrepreneur is simple:
  • To impart knowledge
  • To empower young entrepreneurs
  • To get a result for all concerned
Give them one year to open your eyes and give you the tools to succeed.
FRANCHISE MENTOR OPPORTUNITY
GAP Entrepreneur has opened opportunity to empower Franchised Mentors within South Africa. These licenses are sold apart and only one license may be purchased per person. Each Franchise Mentor will ''own'' a region whereby they will mine their databases and find the necessary candidates to join the program annually.
Roles of a Mentor
Each Mentor has within his/her license to mentor a minimum number of candidates through the GAP Entrepreneur Academy every year. This program is specific and may only be undertaken by a leader driven individual.
Each Mentor shall:
Attend the Master Training Course outlining the entire 47 week modular program
Develop a full understanding of the Business and Mentorship offering
Develop a readiness to build 10 Business Modules per year
Recruit a minimum of 50 candidates per year with the goal to recruit 150+ per annum
Implement the Gap Entrepreneur training modules
Mentor and lead your recruits through their businesses
Assure and lead recruits through 47 success modules
Oversee Recruits on their twelve month journey
Record the progress reports through an IT portals for follow up and follow through
Assist in the overseas formalities for any and all overseas excursions
Attributes of a Franchise Mentor
Proven leadership qualities
Self starters and team players
Strong communication skills
Administratively strong
Strong core values
Visionary
GAP ENTREPRENEUR INITIAL TRAINING
Franchise Mentors
Our franchise mentors undergo an initial training which spans over 6 months consisting of an initial 2 week training module, followed by ongoing training and mentoring sessions before commencement of your first intake.
Training
Each franchise mentor will undergo an intensive training program to prepare them to enter the GAP Entrepreneur business program. Each FM will be required to master all the techniques offered through the GAP Entrepreneur business program.
INVESTMENT REQUIRED
Gap Entrepreneur has an illustrative value and primary investment amounting to R125 000 ex vat. (One Hundred and Twenty Five Thousand Rand) subject to increase annually, payable 30 workings days prior to attendance of training.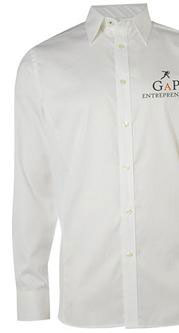 There are NO ROYALTIES PAYABLE.
This will entitle each Franchise Mentor to:
Full initial training including access to all training materials
Access to our GAP ENTREPRENEUR training modules
Ownership of your license territory
Fully branded office design
Access to our Loginworx™ Software
Website representation
Advertising portal for new students in your license area
Email registration namely you@gapentrepreneur.com
Vehicle branding
Marketing pack and training materials
Access to IC pool
Clothing range exclusive to FMs
Additional Investment (estimate)
Office Set Up (Dependant on office size)  -  Approximately R 50 000
Operational Running Costs  -  Min. 3 months operational costs
INFRASTRUCTURE REQUIRED
Due to the nature of our educational model, this business cannot be run from home. A small office environment of ± 100m² would be a minimum space to operate from. These offices will be branded and designed through GE head office.
GAP ENTREPRENEUR will require:
   - Basic office set up with a laptop with minimum Windows 7 Business loaded.
   - An IPad2
   - Internet connectivity ( Broadband)
   - Suitable brand-able vehicle
   - Answering service or machine